Contact us to learn more about our wonderful hotel in Ixtapa for conventions and the many comforts and amenities we have for you in one of the most famous beach towns in Mexico ; you will love your stay here, and our cable car, 7 different restaurants and many other first-class amenities.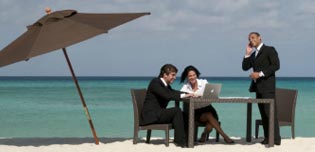 Remember that you can enjoy all that the resort has to offer with our hotel in Ixtapa for conventions, and we have different discounts and promotions throughout the year, so you and your family, friends or business partners can enjoy our resort anytime you want. One of the major attractions found in Pacífica Resort Ixtapa is our world-class spa, with different treatment, massages and salon services for women and men alike.
For the children who visit us, we have Magic Jungle, a fully supervised adventure that features a tropical zoo, beach games, shows and activities all year-round. In our beach club you can enjoy different classes like yoga by the beach, also water sports, bike rides and seasonal activities throughout the year. Contact us today to learn more about our hotel in Ixtapa for conventions; you will not regret your stay with us.